Monterey County's Big Sur settings star with Channing Tatum in new comedy film "Dog" on Feb. 18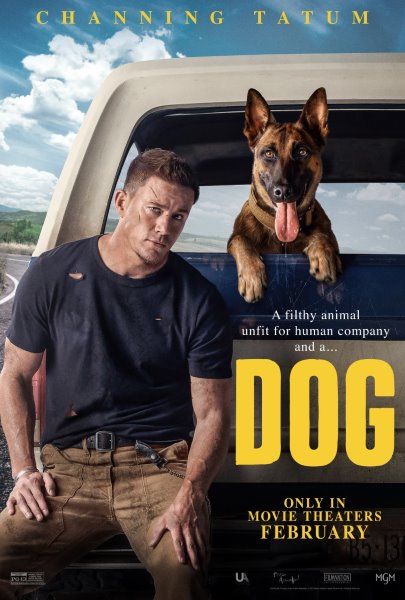 (Monterey, CA) – Monterey County's dramatic coastline and Highway One get the spotlight in a new road trip MGM feature film "Dog," starring Channing Tatum.  It opens in theaters Friday, Feb. 18, 2022.
The buddy comedy follows the misadventures of former Army Ranger Briggs (Channing Tatum) and Lulu (a Belgian Malinois dog war hero) traveling in a 1984 Ford Bronco with in hopes of making it to a fellow soldier's funeral on time.  They drive along Big Sur's coastline and cross Bixby Bridge, and drive each other crazy along the way.  The film's trailer can be viewed on the home page at FilmMonterey.org.
Co-directed by Tatum and his producing partner Reid Carolin, "Dog" is inspired from a documentary the pair produced for HBO called "War Dog: A Soldier's Best Friend." They got to know many in the Army Rangers community who work in the Special Operations with their dogs. And Tatum, during a tough time in his life, lost his real-life longtime best friend, his dog Lulu, so the story is meaningful and speaks to that bond between a human and a dog.
"Road movies are our favorite kinds of movies, mostly because they're full of heart and humor," Carolin says. "They make you feel something and expose you to new ideas and places and wild characters."
"Dog" is one of many films and media productions that the Monterey County Film Commission works with and assists, which boost the local economy with on-location spend.  Since its inception, the nonprofit Monterey County Film Commission reports more than $122 million in local economic impact from the film industry.
Get Our Free E-Newsletter
Get notified of our latest press releases, news, production alerts and more.