Monterey's Summer of Love kicked off with "Monterey Pop" film
In May, the Monterey County Film Commission took nearly 800 movie-goers back in time to the 1967 Monterey International Pop Festival. It happened via a special screening of D.A. Pennebaker's
documentary Monterey Pop, the ground-breaking film which blended music and film 50 years ago. Held at Monterey's historic Golden State Theatre, the event included a talk by Carmel's professional photographer Tom Gundelfinger O'Neal, who shared behind-the-scenes insights on the festival and those who were capturing its action on film.
Guests wore flowers in their hair, sported I Was There in 1967 badges, and stopped by tables full of Monterey Pop Festival photos, Monterey Herald commemorative books, T-shirts and more in the lobby adorned with neon flower décor. As the theater lights dimmed, the musical icons who appeared at the landmark Monterey Pop Festival back in the day were seen again on the big screen: Janis Joplin, Jimi Hendrix, Otis Redding, Mama Cass Elliott, The Who, Ravi Shankar and many more. It was the 1960s and the Summer of Love rocking all over again.
There was a salute to MCFC's 30th year anniversary, as Monterey's Mayor Clyde Roberson presented a proclamation to MCFC's Board President Alán Vasquez, in honor of the film commission's many
accomplishments in attracting and assisting film productions such as the Big Little Lies HBO limited series and for the $100 million in economic impact that has resulted since the film commission was created by the Monterey County Board of Supervisors.
The film commission also put the spotlight on its 2017 film student scholarship winner Briana Gonzales, who was presented an oversized check for $2,000. She is a graduating senior in the Cinematic Arts and Technology program at California State University, Monterey Bay, planning a career in stop-motion animation.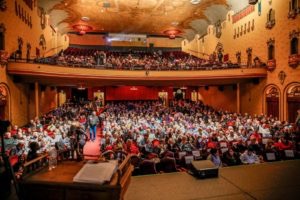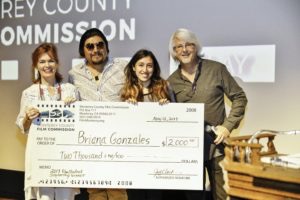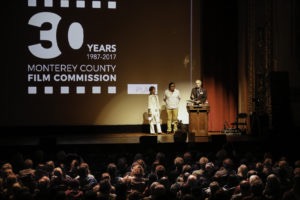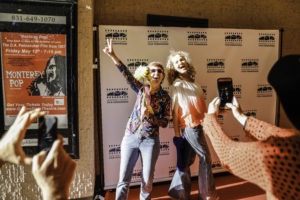 Get Our Free E-Newsletter
Get notified of our latest press releases, news, production alerts and more.