Fleccia Wilson named 2019 California On Location Award Winner for State Public Employee at Film Industry Event
Fleccia Wilson of Seaside was a winner in the 25th Annual California On Location Awards (COLAS) event held Dec. 15 at the Hilton Universal City in Los Angeles. She was honored as Public Employee of the Year – State for her work in facilitating film permit requests for the Monterey Sector of the California State Parks, where she is the event coordinator.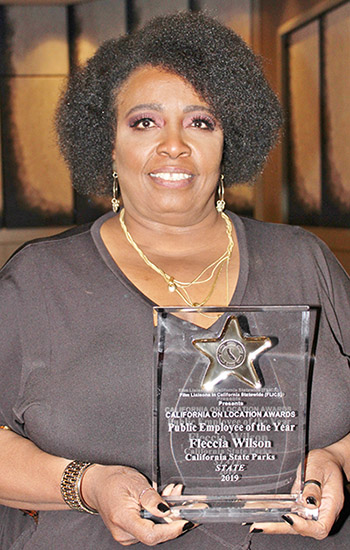 The awards event which attracts some 600 film industry professionals is put on by the Film Liaisons in California Statewide (FLICS), an organization of 42 film commissions in California, and the California Film Commission. It honors and celebrates the accomplishments of location managers, public employees and other professionals working to attract, retain and facilitate production across the state and provide exceptional service to the film production industry. The Monterey County Film Commission—a FLICS member– nominated Wilson, whose territory includes Pt. Lobos State Nature Reserve, Carmel River State Beach, Garrapata, Ft. Ord Dunes, Marina and Zmudowski state beaches.
She has been issuing permits since 2008, and recently was helpful to the two HBO "Big Little Lies" series, which filmed at numerous Monterey Peninsula locations and left more than $6.1 million in the local economy.
"I know that filming brings an economic boost statewide in support of workers and businesses in California," said Wilson. "I try to find a balance with filming in Monterey County's state park properties to keep the local economy strong, and at the same time help protect the resources of our parks and beaches."
The location team for season two of "Big Little Lies" was a finalist for Location Team of the Year — Episodic TV 1 Hour. The location manager was Gregory Alpert from Los Angeles, and the Monterey location liaison was Jere Newton.
Get Our Free E-Newsletter
Get notified of our latest press releases, news, production alerts and more.