Briana Gonzales wins MCFC's Film Student Scholarship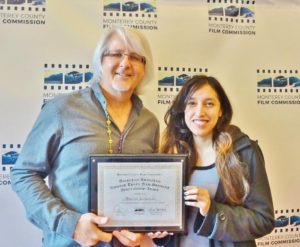 Briana Gonzales, a graduating senior at the Cinematic Arts and Technology program at California State University, Monterey Bay, was named the 2017 winner of a $2,000 scholarship in the Monterey County Film Commission's Director Emeritus Richard Tyler Film Student Scholarship Award Program. She is a Seaside resident, originally from Porterville, CA.
The Monterey County Film Commission film student scholarship program was created in 2008 to provide financial aid and incentive to students of film as well as beginning filmmakers who reside in Monterey County or those enrolled in a college or university in the county. The fund was established as a permanent endowment with the Community Foundation for Monterey County.
Gonzales has a filmmaking career goal, and is focused on stop-motion animation which she feels offers opportunities to be creative and innovative. "It is rigorous work, but rewarding when I see my set and characters come to life," Gonzales said. "This award will allow me to invest in equipment and create a more intricate production set and well-constructed characters which would in turn show off my skills to studios and film festivals and help further my career in the art that is stop-motion animation," Gonzales said.
Contributions to the film commission's Director Emeritus Richard Tyler Film Student Scholarship Award Program were made by the Craig and Paula Tigerman family, in-kind support from the Pebble Beach Concours d'Elegance, and numerous local donors.
"We are pleased to be able to provide this award to Briana, and believe she is a determined filmmaker," said Jeff Clark, film student scholarship committee chairperson and chair of the board of the Monterey County Film Commission. "It is our hope that this contribution helps her toward achieving her career goals." Donations are welcomed for next year's program.
For more information call 831-646-0910 or email info@filmmonterey.org.
Get Our Free E-Newsletter
Get notified of our latest press releases, news, production alerts and more.